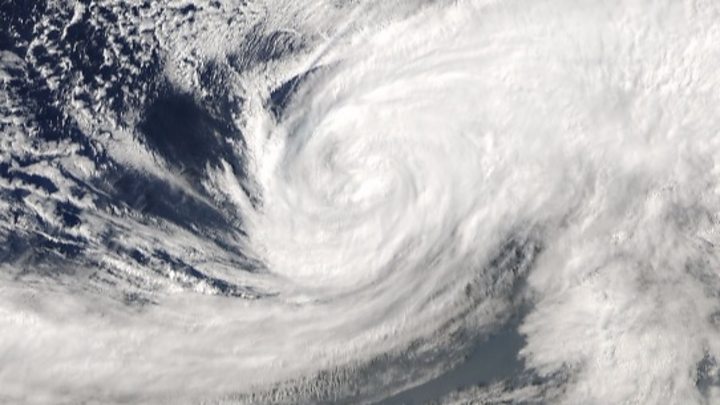 A woman in her 50s has been killed as the remnants of Hurricane Ophelia hit the British Isles.
Part of a tree fell on her car in West Waterford, also injuring another passenger, as hurricane-force gusts battered the Republic of Ireland.
About 120,000 homes are without power in the Irish Republic, where the government has deployed the army.
An amber warning for Northern Ireland, Wales, south west Scotland and the Isle of Man is in force until 23:00 BST.
The injured passenger, a woman in her 70s, has been taken to hospital. Her injuries are not life-threatening, the Gardai, Ireland's police force, said.
It urged all road users to stay indoors and not travel unless their journey was absolutely necessary.
The Met Office has warned of "potential danger to life", with wind gusts off the south coast of Ireland reaching 109mph (176km/h) at Fastnet Rock.
A yellow warning of "very windy weather" also covers parts of Scotland, the west and north of England and Wales.
BBC weather presenter Chris Fawkes said: "This is one of the strongest storms you're going to see this year."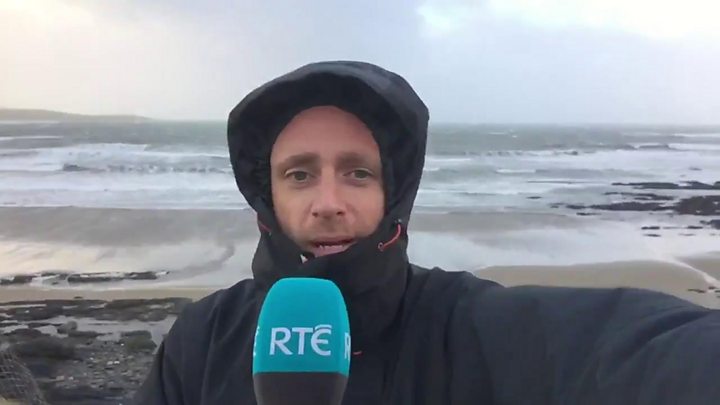 It could be several days before power is restored to some homes in the Republic of Ireland, ESB Networks has warned.
The roof of Cork's football stadium has also been blown off by the winds.
In Wales, about 200 homes were without power and the Cleddau Bridge was shut to high-sided vehicles, Pembrokeshire County Council said. All schools in the county have been closed.
Are you affected by Hurricane Ophelia? E-mail your stories and pictures to or WhatsApp: +447555 173285
Ophelia has arrived from the Azores in the Atlantic Ocean and comes 30 years after the UK's Great Storm of 1987.
Ireland's Taoiseach Leo Varadkar said Ophelia was a dangerous storm and advised people to stay indoors until it had passed.
The BBC's Ireland correspondent, Chris Page, said it would be the most severe storm to hit Ireland in half a century.
The Irish Republic's Met Eireann said the storm was forecast to travel north over western parts of Ireland, with "violent and destructive gusts" of 75mph to 93mph (120 km/h to 150km/h) expected countrywide.
"There is a danger to life and property," it said.
It has issued a red alert for the country.
In England, three flood warnings – meaning flooding is expected – have been issued in the South West, and there are 13 flood alerts – meaning flooding is possible – across other parts of the country.
End of Instagram post by gerardheaney
Dublin Airport said about 130 flights were cancelled. Ryanair, Aer Lingus, British Airways, Qatar Airways, Air France, CityJet, Emirates and KLM have all cancelled some flights due to the severe weather
Belfast Airport said passengers should check with their airline
Planes have been grounded at Manchester Airport, with 20 flights cancelled
Edinburgh Airport said its flights to Ireland had been cancelled but all others were unaffected
All schools and further education colleges in Northern Ireland and the Republic of Ireland are closed
As well as the schools in Pembrokeshire, one in Anglesey is also closing. Bangor University will shut on Monday afternoon.
Former US President Bill Clinton has cancelled a trip to Belfast because of the weather.
End of Twitter post by @campaignforleo
End of Twitter post by @nidirect
Ophelia has been downgraded to a category one hurricane by the US National Hurricane Center and is forecast to continue gradually weakening.
BBC Weather said Monday would be a "day of huge contrasts" with the strong gusts of wind travelling over the Irish Sea and heading north to central and southern Scotland, sparing eastern parts of the UK.
Eastern England is instead expected to enjoy unseasonably warm weather, with temperatures of 22C or 23C on Monday – compared with an average for mid-October of 15C.
Highs of 24C were recorded in the region on Saturday as some parts of the country basked in a "mini heatwave" thanks to warm air brought by Ophelia.
Ophelia set the record for the most easterly category three hurricane in the Atlantic.
Category three hurricanes are defined as having wind speeds of between 111mph (179km/h) and 129mph (208km/h) and can cause major damage to well-built homes.
Please do not put yourself in any danger to take images and please heed all safety warnings.
You can also contact us in the following ways:
Source
http://www.bbc.co.uk/news/uk-41627442